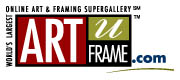 Art & Custom Framing - Artuframe.com
Check out the largest collection of framed and unframed art on the Web. With over a billion custom framing combinations to choose from, you're sure to find what your looking for. Plus you can get online and chat with artists, curators and art experts.
Books, Books on tape, Music & More - Amazon.com
The world's largest bookstore also brings you music, dvd's, books on tape, and more, at a discount. Plus you can read book reviews from Oprah, the critics and readers like you. And don't forget about the chatrooms.

Golf Equipment & Supplies - Chip Shot Golf
Get your look-a-like clubs , name brand clubs (including; Adams Golf, Callaway, Cleveland, Daiwa, King Cobra, Mizuno, Taylor Made, Titleist & Tommy Armour), custom made clubs, accessories, and components at great prices.